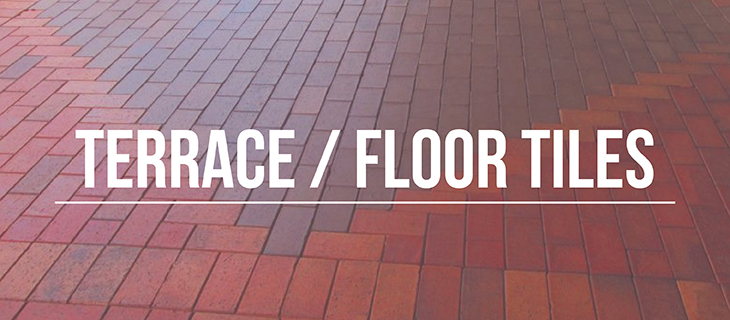 TERRACE / FLOOR TILES
Our extensive variety of pavers perfects every outdoor scheme, from stylish patios courtyards to smart pool surrounds, driveways and garden paths. Whether you are dreaming of a contemporary space or a more traditional look our range will inspire and stimulate ideas.
Available in a choice of sizes, formats, colours and finishes, our pavers ensure that establishing your style at home has never been easier.
Floor Tile
Size - 150 x 150 x 25 mm
Weight - 1.2 kg.
Hollow Cool Roof Tile
Size - 228 x 228 x 50 mm
Weight - 3.8 kg.
Floor Tiles (Red / Brown)
Size - 228 x 110 x 40 mm
Weight - 2.16 kg.
Terrace & Floor Tiles Manufacturers in India | Bharat Bricks
Terrace & Floor Tiles Manufacturers In India – Everyone wants a fully furnished and well-constructed house. Good Architecture plays a very important role in the development of society. So, to match up this development of society and to give the best quality facilities to the people for their houses, Bharat Brick Co. has been continuously evolving with time. We are the Top Terrace & Floor Tiles Manufacturers in India, and thus, we bring the best type of materials used for constructing any building or living space. So, if you are looking for a company who can provide the best floor and terrace tiles with varied colors, texture, size, and shape.
Our company takes all the requirements of the customers into consideration and then produces a wide range of different tiles and bricks in India. Moreover, we are the one trusted source for quality, durable and long-lasting styles of Terrace and floor tiles in India. Bharat Bricks Co. has its own distributing networks all across India which makes it easier to fulfill the requirements of all our customers. To know more about our company and the products we manufacture, give us a call on 09872228476, 09888925830 or mail us at info@bharatbricks.com.
Choosing the Right Type of Terrace and Floor Tiles for construction
Constructing a new building is not at all easy and it requires a considerable amount of detail, patience, and hard work. It becomes very important to take the right decision for constructing and needs to go beyond aesthetics and the technical details. Everyone might not have expertise in this field so, it becomes important to consult a professional who has proper information about that particular project. So, you can connect with Bharat Bricks Co. for finding the best type of floor for your house or office and get the perfect coordinated walls with the right type of furniture as well.
We have a wide variety of specialized indoor and outdoor flooring options that can stand through both high and low temperatures and other weather conditions as well. Moreover, with all the technical qualities of our tile range in India, Bharat Bricks Co. also focuses on the visually appealing tiles. We know that many of us spend their maximum time on the terrace or the garden area, thus, our company will help you to get the best suitable options for you in the market at an affordable price.
Advantages of Using Terrace and Floor Tiles during Construction
There are a number of reasons why floor tiles are gaining so much popularity across the world for construction. In recent times, you will barely find a house or any building that doesn't have any tiles. Here are some reasons why Terrace and Floor tiles have gained such popularity -
Affordable – Tiles are easily affordable. You will get a large range of tiles in the market starting from Rs. 25 per sq. foot to several hundred depending upon its variety, quality, durability, and type. You can buy as per your pocket allows.
Variety – You can find tiles in all sorts of designs, colors, textures, and types. One can choose the tile as per their needs and preferences.
Application – Tiles can be applied in a building with more ease rather than other building materials. Also, the wastage done from the tiles is much lesser than other materials.
Cleaning – Cleaning the tiles is also easy than any other concrete or a wooden floor. The concrete floors or the wooden floors get spoiled very easily on the exposure of water or any other thing and thus it causes dirt patches and cleaning them can become a major task. But this doesn't happen with the tiles.
Water-resistant – This is probably the best feature that the tiles have. Tiles can resist the effects of water and thus are widely used in bathrooms, floors, and kitchen.
Why Choose Bharat Bricks Co. as Terrace & Floor Tiles Manufacturers In India?
We have been into the market for 24 years now and thus, we have maintained a successful market place for our products. Our company will give you a variety of perfectly manufactured tiles which you have been dreaming of. Moreover, we will provide you with wide choices of sizes, colors, formats in tiles to get the desired style of your building. Bharat Brick Co. has –
Floor Tile
Hollow Cool Roof Tile
Floor Tiles (Red / Brown)
So, connect with as soon as possible to enjoy the best range of tiles in India.
Contact Details
Name – Bharat Bricks Co.
Address – Vill. Fatehpur Behra, Dera Bassi (PB)
Phone no. - 09888925830, 09872228476